---
Research Interests: Environmental Mineralogy, Crystallography and Crystal Chemistry

My research interests involve the integration of low temperature geochemistry and mineralogy in the study of crystal surfaces and water-rock interactions found in natural systems. In particular, I am interested in environmentally significant processes such as crystal growth, metal sorption, trace element partitioning and other surface mediated reactions. My research also addresses the structural response of minerals to substituent elements, especially lanthanides and actinides in apatite group minerals.

Current research projects include: Use of phosphate minerals for environmental remediation; the role of crystal surface structure on trace element incorporation during growth; crystal chemistry of the lanthanides and actinides in apatite; crystal growth and trace element incorporation in fluorite and apatite; understanding fundamental interactions between aqueous metal species and soil minerals; mineral replacement reactions.

Chemically zoned fluorapatite from the Panasqueira tungsten deposit Portugal (Joaquim Callén photo ). HRTEM photomicrograph of the apatite structure (Mark Krekeler image).
EFMLS Award
Professor John Rakovan is the 2021 Honorary Award recipient from the Eastern Federation of Mineralogical and Lapidary Societies for the AFMS Scholarship Foundation. John has nominated graduate students Stephanie Mounce and Calvin Anderson to be the recipients of the AFMS Scholarship. EFMLS Link.
Research in the News: Wire Silver and Gold: National Geographic; Los Alamos National Laboratory Press Release; Geology paper
2016 Dallas Mineral Symposium talk on crystal growth
---
Undergraduate and Graduate Student Research at Miami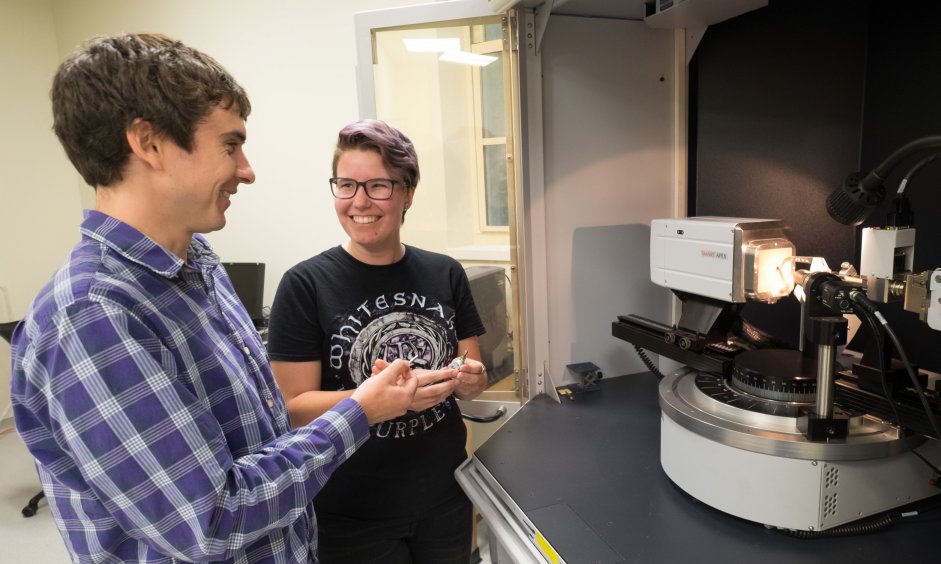 ---
---
---
---
---
---
---
---
AWARDS AND RECOGNITION
Eponym of the mineral rakovanite.
Recipient of the Carnegie Mineralogical Award 2019
Undergraduate Research Opportunities