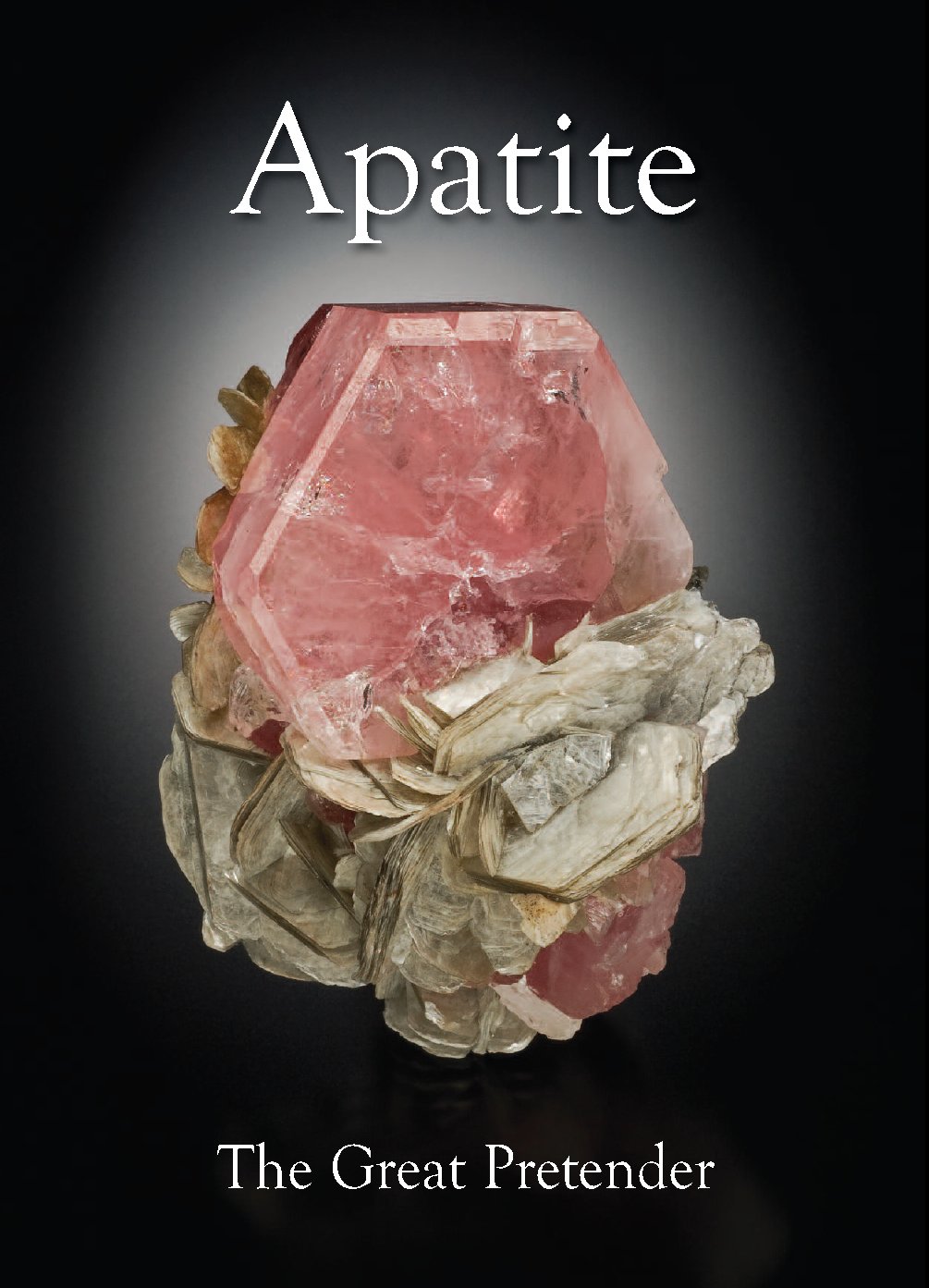 Apatite - The Great Pretender
Apatite, the most abundant phosphate on Earth, is ubiquitous in the lithosphere and in vertebrates of the animal kingdom. Because it forms large colorful crystals, this toothsome mineral is among the most prized species populating mineral collections worldwide. Commonly confused with other minerals, Apatite takes its name from the Greek, meaning "to deceive." Mineral monographs volume 17, written for a broad audience from novice collectors to professional scientists, explores in luscious color the science, localities, history and culture of Apatite - the Great Pretender.
Citation: Rakovan, J., Staebler, G. and Dallaire, D. Editors (2013) Apatite - The Great Pretender. Mineral monographs V. 17. Lithographie, LLC. Denver. 128 p.
ISBN: 978-0-9836323-3-7.
Available at: http://www.minsocam.org/MSA/Lithographie.html and http://www.lithographie.org/bookshop/apatite.htm
TABLE OF CONTENTS
PAGE 4
Apatite-A Large and Illustrious Family: Dr. John Rakovan and Dr. John M. Hughes
PAGE 10
Color and Fluorescence: Dr. John Rakovan and Dr. Glen Waychunas
PAGE 18
Type Locality-Ehrenfriedersdorf: Stefan Meier
PAGE 21
The Geology of Apatite Occurrences: Dr. Robert Martin and Dr. John Rakovan
PAGE 28
Apatites of the United States: Dr. Carl Francis and Donald Dallaire
PAGE 38
Thousand Pound Crystals and Eighty Carat Gemstones-Canada is BIG!: Dr. Kimberly Tait and Michael Bainbridge
PAGE 48
Mexican Apatite: Dr. Peter, K. M. Megaw and Dr. Mark Barton
PAGE 54
Brazil's Great Apatite Localities: Dr. Luiz Menezes and Mario Chaves
PAGE 67
Apatite from the Andes: Alfredo Petrov and Dr. Jaroslav Hyršl
PAGE 70
The Panasqueira Mines: One Hundred Years of Fluorapatite: Carles Curto Mila and Jordi Fabre i Fornaguera
PAGE 82
Apatites of the Alps: Dr. Philip Scalisi
PAGE 86
Apatite Valleys: Localities of Northern Pakistan: Dudley Blauwet
PAGE 96
Apatite from Nuristan, Afghanistan: Dr. John Rakovan
PAGE 98
China and Japan: Dr. John Rakovan
PAGE 103
Apatite Localities of Russia and Other Former Soviet Republics: Dr. Dimitriy Belakovskiy
PAGE 112
Meteoritic Apatite: Dr. Rhian Jones
PAGES 116, 118, 120, 122, 124
References