College of Arts & Science

at Miami University
Behind the Red Brick: Student Research at Miami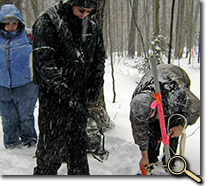 Undergraduate and graduate students have many opportunities to participate in research at Miami University. Hear what students and faculty have to say about their research in the videos available below.
[Learn more in The Miami University Report's issue on Undergraduate Research — August 2013 (PDF).]
Election Night! Reporting for The Cincinnati Enquirer
I now know about time management for reporting, how to interview people better, how to do web clips, how to do video, what questions to ask, how to push for answers, how to dig a little deeper, and how to report a little harder ... I got all that experience, not because I was in the classroom, but because I had that actual on-the-field experience.


[Listen to Ronnie Albritton talk about being a roving reporter for The Cincinnati Enquirer on election night 2012.]


This has really been an awesome experience. I've already had some interviews for summer internships next year and I've been able to show them clips that I've done with The Cincinnati Enquirer with this capstone [JRN 421: Capstone in Journalism].



[Listen to Jenn Smola talk about reporting for The Cincinnati Enquirer and about her experience as an intern for the Inside Washington program.]


I've met so many people that work in so many different places that have so many different jobs; I've worked with judges, councilmen, and news anchors, just all over the board — and I think that's going to help me.



[Listen to Cindy Moore talk about her experience covering politics and her plans for law school.]


You realize that it's what's going on right now that matters, not what happened ten minutes ago; it's looking ahead ... That's something you learn about in this whole, entire class [JRN 421: Capstone in Journalism], is the immediacy of journalism.



[Listen to Colleen Rasa talk about reporting for The Cincinnati Enquirer on election night 2012.]
What Makes Phages Tick?

I knew nothing about bacterial phages (I didn't even take AP biology in high school), but I didn't dismiss it. I looked at it as an opportunity to get into a research lab. Research was what I wanted to do when I came here and I'm pursuing that dream.



[Listen to students Taylor Blakely, Holly Klepek, and Danny Mize talk about their participation in a national experiment to determine and understand the genetic content of viruses infecting bacteria.]
Forest Ecosystems: Science as a Team Effort
Field research is very important when it comes to our subjects like ecology and biogeochemistry, because ... we need to know forest productivity and nutrient cycling ... for the forest managers to plan their forest management practices.



[Listen to Shinjini Goswami, zoology Ph.D. candidate, and Dr. Melany Fisk talk about their research in New Hampshire's northern hardwood forest.]


I'd like to go back home to Hawaii ... and possibly start my own research institute back on Oahu ... to provide for native Hawaiian students and other minorities and hopefully they can follow the same path.



[Listen to Russell Auwae, ecology Ph.D. candidate, talk about his dream of creating a research institute back in his home state of Hawaii.]


I like to think back, when I see that one number: here's the density of this tree species or here's the availability of nitrogen in this soil sample. I like to think back about the trail that that followed—had to follow—to get there.



[Listen to Dr. Melany Fisk describe the team effort involved in reducing the data from weeks of field and lab work to a single number.]
Microalgae from Antarctica to Ohio
These [Antarctic] dry valleys ... are one of the coldest, driest environments in the world, and we study microbial communities that live in the lakes there ... We go to Antarctica to collect new specimens ... and to study how these organisms are adapted to their natural environments.



[Listen to Dr. Rachael Morgan-Kiss talk about her research in Antarctica and watch video and photos of the work going on there.]


Antarctica is gorgeous and overwhelming ... You just have to experience it. As far as academically, Miami prepared me tremendously ... if it weren't for Miami, this experience never would have come to pass.



[Listen to Nicholas Ketchum talk about the unique experience of conducting undergraduate research in Antarctica.]


My freshman year, I got an e-mail asking if we were interested in biology research ... Professors came in and talked to us about their research, and then they gave us an opportunity to do rounds in different labs ... I've been here [working in the Morgan-Kiss lab] since my sophomore year.



[Listen to Alex Loomis talk about his undergraduate research.]
Tannin Biochemistry: It's Just Chemistry

I really fell in love with what I was doing hands-on in the lab. And that's what I wanted to take with me, down the road into my future ... I want to go into research to help benefit science and help benefit humans.



[Listen to Melanie Krook and Dr. Ann Hagerman talk about their research dealing with potential impacts of tannins on human and animal health.]
Internships with KosovaLive
It's a rare opportunity to see a country being born and, for students in journalism and a lot of other disciplines, the chance to see that, get to know people and tell the story of people who are trying to create a new way of life is something you don't get very often.



[Listen to Ed Arnone talk about KosovaLive workshop.]


I definitely realized through this trip that journalism is the career path that I want. I think it was a great experience because I really realized what I wanted to do in my life and I got the confidence to do it."



[Listen to Kara Ferguson talk about her experience working as a real journalist in Kosova.]
Biodiversity of Kenya
The large cats [leopards, cheetahs, lions] are just, of course, very charismatic and just fascinating. Everybody's got their, you know, particulars ... All the species, of course, were incredible and it was so neat to broaden my horizons as such but the cats just, you know, they just won my heart.



[Listen to Stevi Hautau talk about her research in Kenya and watch video of leopards, cheetahs, and lions.]


I was looking at a lot of the different ecotourism that goes on in Kenya ... building upon and learning about the culture from a very intimate setting rather than kind of coming to the country and just staying in a hotel and learning about it that way to actually being immersed in that culture.



[Listen to Gwen Bausmith talk about her research on the impacts of ecotourism on local communities in Kenya.]


I looked at land management [practices in Kenya] ... It was awesome. Being in the field all the time and able to talk to people every day was a lot better than sitting in a library and reading a bunch of articles and trying to do your research that way.



[Listen to Sarah Van Frank talk about her research experience in Kenya.]


Biodiversity of Kenya [GEO/BOT 496/596] especially emphasizes gaining field skills in a new and different setting ... listening to the experts, learning how to look across landscapes to identify animals, to watch their behavior, to understand why people do what they do in different environments.



[Watch Dr. Kim Medley outline the goals and objectives of her course: Biodiversity of Kenya.]
Tibetan Studies Semester Program
If you're an anthropology student and you haven't traveled abroad ... then you really need to because it's something that can ... help you to understand everything that you've been studying. I've been accepted to a grad school largely based on my experience there.



[Watch Justin Landers and others talk about the Tibetan Studies Semester Program.]


I could have never predicted that it was going to have such long lasting effects on the choices I was going to make but I think that it was definitely one of the best things that I could do and I'm very happy with where it's brought me now and where it's going to continue to take me.



[Listen to Colleen Payne talk about her research on the changing roles of Tibetan women.]


By far, the most academically pertinent thing that I did in India was my research into medicine in India ... because all of the training that I've done in my courses at Miami really kind of culminate in that experience.



[Watch Nathan Devore talk about his research experience in India.]


I think it's really wonderful that His Holiness [the Dalai Lama] is going to visit Miami University ... this will have a wonderful, wonderful impact for Miami University and the students, the faculty and the staff.



[Watch Geshe Kalsang Damdu talk about visits between the Dalai Lama and Miami students.]
Digital Storytelling by International Students
What motivated me to do this assignment, which is a digital story — a personal story and a narrative — is because I know [international students] have so much to tell, which would be fascinating to the Miami community and to the U.S. audience.



[Listen to Felice describe the English course where international students tell digital stories.]


This class is really interesting and I can bring different sides of myself — bring my past, past memories in China and my friends ... Through the video ... we can also talk more deeply about our thoughts, about friends, and your ability to accept the new environment.



[Listen to Zi Ye talk about how she created her digital story.]


"Laybur, my best friend, you are so special to me.
When I think of you, all the memories are like many pictures passing in the front of my eyes.

Mountain Lakes: Scientists, Teachers, & Students in Action
Our landscapes are changing in ways never seen before ... Our research is aimed to try to understand how these changes will influence the quality of the water as well as the organisms that inhabit these lakes ... Such research is critical ... if we are to understand how our natural world works, how it is changing, and what those changes mean for us.



[Listen to Kevin describe, and watch people conducting, high-elevation lake research.]


I've been ... collecting lots of great data, having an awesome time, doing field work, getting my hands dirty, doing real science. So, I'm excited to take it back to my students and really help bring science alive for them.



[Listen to Paula talk about her Research Experience for Teachers.]


I'm here at Glacier National Park, and we are studying carbon cycling in these lakes ... It's been an unbelievable experience. I think any undergraduate student should, if they can, ... come out and work in the field.



[Listen to Cody talk about his undergraduate research experience.]
Well Grounded in Geology

What the students really get out of this is ... this ability to take and interpret real-life situations — and there's no better place to do that than out in the field for a geologist ... they've learned a lot of other very important aspects of how to interpret information and how to work with people.



[Listen to Dr. Hart describe, and watch geology students participating in, the capstone geology field course.]


For my seismology course today, ... we decided to do a proposal on a project based on taking CO2 from the environment and storing it back into the earth ... something completely new, but completely doable.



[Listen to Tom describe his proposal for removing carbon from the atmosphere.]


In geology, I have opportunities either way. I can go get a PhD in any number of subsets of geology or there are a lot of jobs that one can get in geology with just a bachelor's degree or just a master's degree.



[Listen to Laura talk about the numerous opportunities available to students of geology.]
Jamming with an American Icon

I came away with an experience and just the feeling that I'd been in the room with someone who has been in the room with so many people who I admire and have studied historically. It was a very great experience.



[Listen to Will and watch history students playing and singing with Pete Seeger.]


I learned that folk music is a way for marginalized people to say what they have to feel and lift up their voices and sing out to the people and to the government, as well, if they will listen to them.



[Listen to Kaya and other history students reflect on their opportunity to meet, play, and sing with Pete Seeger.]
A Completely Different Perspective on History

You can get this information in books. You can get it online. You can see pictures. But, unless you're here and, seeing how the buildings are constructed, seeing the paint, seeing the brickwork, touching it ... It's a completely different perspective on history.



[Listen and watch faculty and students talk about the restoration being done in White Water Shaker Village, Ohio.]
Keep Tahoe Blue

One of the primary interests of our lab is to study the effects of ultraviolet radiation [UV] on aquatic organisms. So what this generally means is that we get to work where the sun shines and water is blue — places like Lake Tahoe here in the Sierra Nevada Mountains.



[Listen and watch graduate student Andrew Tucker talk about his research at Lake Tahoe.]
Terrestrial and Aquatic Ecology

Working in a lab as an undergraduate was a pretty big opportunity ... I had a class with Dr. Gonzalez and she mentioned to the class that she had a position available. So I approached her and was given the opportunity to work in her lab and I've been doing so for the past 2 years.



[Learn about ecological field and lab research opportunities at Miami University.]
Exploring Humankind through Primatology

Students are encouraged and supported to do independent primatology research. Miami University students have studied primates in captivity and in the wild. For example, they've worked ... abroad in the countries of Senegal, Madagascar, Thailand, and Uganda, among others.



[Listen and watch Dr. Linda Marchant describe the scope and nature of student and faculty primatology research at Miami.]


If you have a passion for studying non-human primates or if you just want to know a good deal more about your nearest relatives, then why not consider studying primatology at Miami University ... and remember, you're a primate, too!



[Listen and watch Dr. Marchant describe the primatology research of former Miami undergraduates.]
The Coldest Matter in the Universe

My undergraduate and graduate students build state-of-the-art laser systems and sophisticated electronic and magnetic control systems for the experiments. If you like building things and conducting cool — micro-Kelvin cool — cutting edge research, then come to Miami and visit my lab.



[Listen to Dr. Bali and watch students conducting research in a physics lab.]


[An] amazing thing about ... working in a research lab is the opportunity to work with students and teachers who are all very enthusiastic ... Not many other students in other institutions get a chance to actually see these concepts put into real life.


[Listen to Courtney and other students talk their physics research.]
From Amazon to Youtube: The Impact of the Internet on U.S. Cultures and Communication
(ENG H101)

From Amazon to Youtube is a first-year seminar for Honors and Scholars students and it is part of the first-year writing program. In this class, I seek to help students become more effective writers ...



[Listen to Dr. McKee and watch students conducting research in the digital classroom.]


The ability to use plasma screens in the classroom helps with group activities because when we all need to look at the same document or collaborate on information, it's all right there on the big screen.


[Listen to Patrick and other students talk about research in the digital classroom.]
Center for Bioinformatics and Functional Genomics

This is a great Miami University center in which students, particularly undergraduate students, have a unique opportunity to work together with faculty and researchers, addressing very important and central biological issues and using state-of-the-art technology, which is used all around the world.



[Learn what we do at the center and watch students conducting research.]


My research project deals with working on a bacterium that causes pneumonia in soldiers returning from Iraq ... and also wound infections in soldiers returning from Iraq and immunocompromised people ...


[Listen to Jennifer and other students talk about their research.]