College of Arts & Science

at Miami University

Courtney Schilling
(Dean's Student Advisory Council)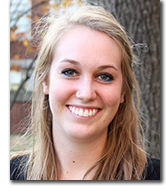 senior
history and social studies education double major
from Oxford, OH
co-President, Miami Council for the Social Studies
Historian, Phi Mu
[More from other DSAC students.]

In fall 2011, Courtney talked about her time at Miami University.
"I am a senior History and Social Studies Education double major. I'm from Oxford, so I have been living the Miami experience most of my life. I enjoy traveling, hiking, nature and volleyball.

"I also participate as a Student Ambassador for the College of Arts and Science. I am a member, and the historian, of Phi Mu and am the co-President for the educational organization Miami Council for the Social Studies.

"In the fall of 2009 I studied on Miami's campus in Luxembourg and had the wonderful opportunity to travel throughout Europe.

"I am currently involved in the honors History thesis program and am focusing my research on a child labor primary sourcebook I can hopefully use in my future educational career.

"After leaving Miami I hope to teach English somewhere in South America, then eventually teach high school social studies in urban United States.

"Although I only have one year left at Miami, I hope to make it the best it can be. Miami has certainly impacted me these past three years more than I could have ever expected. From being a first-year to my final year, I have matured tenfold, learned to conduct historical research, made lifelong friends, acquired masses of knowledge, and made connections with professors that inspired me to make an impact on others.

"This eclectic education is only one of the reasons why Miami is so great and I hope I can impact this great university as much as it has impacted me."