College of Arts & Science

at Miami University

Sam Papa
(Dean's Student Advisory Council)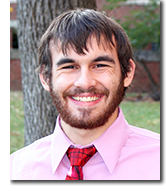 senior double major in English literature and Russian, East European, and Eurasian studies
Writing Consultant at Howe Center for Writing Excellence
President of Russian Club
Undergraduate Assistant for Art of India and Southeast Asia

(ART 185)

during fall 2010
[More from other DSAC students.]

In fall 2011, Sam talked about his time at Miami University.
"Growing up in Suburban Ohio afforded me the opportunity of partying with family in small box-shaped homes during the holidays. Within these spaces where bodies rubbed up against one another and kids stacked themselves upon the knees of their (grand)parents, stories could be heard—stories that mixed anecdote with legend, reality with fiction. These tales of mischief and nostalgia, always in the presence of the younger generation, left an unwavering imprint on my mind. It is no small wonder that taking Russian Folklore (RUS 137) here at Miami reawakened that love for fantastical stories; however, instead of simply possessing a fascination for fairy tales, legends, and fables, most of my studies continued to revolve around the appropriation of folklore into other medias. Even my past summer abroad focused on the rich folklore of Ukraine and how the country's modern writers utilized the motifs of folk traditions in their works to legitimize their culture and homeland.

"This love for stories also influenced my leaning towards literary studies. Though my main love is firmly embedded in close readings and theoretical texts, my aptitude for reading and listening to stories facilitates a broader appreciation for all conveyances of ideas. From films to lectures, everything carries its own discourse and can be beneficial to any mind waiting to absorb its contents. My time spent in the linchpin of English studies, Introduction to Literary and Cultural Theory (ENG 298), opened my mind to how the very act of reading changes the meaning of texts and opens up new points of discourse. The emphasis on change is important. No single reading, viewing, or listening of a work will ever present one with all the knowledge stored within the words, visuals, or sounds of a work because of the very differences between readers, viewers, and listeners—such differences appear throughout Miami University.

"For a campus that lauds diversity, difference between students becomes the core ideal of the university; indeed, being an undergraduate assistant for Art of India and Southeast Asia (ART 185) and spending time in the writing center helping my fellow students become better writers opened my eyes to the sheer number of individuals scattered across Miami's tree-filled campus. Because everyone brings to the metaphorical table different upbringings and perspectives, my ideal goal as a member of DSAC is to absorb all of these student-generated aspects and present them to the College of Arts and Sciences with the confidence that everyone's idea matters.

"My time as an undergraduate—whether spent at King checking out a mountain load of books, listening to the anecdotes of my peers, grading students, consulting writings, or studying abroad in the Slavic lands—has only reinforced my belief that the stories—always present at Miami—all share one thing in common: they hold within themselves the kernels of truth gained only through varied experiences, which, when listened to, offers the university insights that will construct a better Miami for the students of the years to come."