College of Arts & Science

at Miami University

Yolanda O'Neill
(Dean's Student Advisory Council)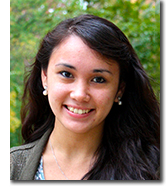 sophomore English literature major
from Brockton, MA
interested in classics and English
[More from other DSAC students.]

In fall 2011, Yolanda talked about her time at Miami University.
"Hello! My name is Yolanda O'Neill, and I always try to be as well rounded as I can possibly be. In high school, I took part in key club, National Honorary Society, classics club, majorettes, advanced ballet, and competitive baton twirling. I've done well in my twirling on the national and state levels, where most recently I won 2011 Advanced Miss Majorette of Mass Royalty."
Academic & Co-curricular Experiences
"Although this is my first year at Miami, I can say that I am doing very well academically. In addition to DSAC, I've joined Classics Club, Triple A, and Prism, and I still love to twirl and dance. Outside of that I enjoy spending time with my friends, both new ones made on campus and old ones back home, as well as my family."
Thoughts on Representing My Peers
"I really look forward to being able to speak for a larger student body, where I hope to become more informed about the environment around me as well as to become part of the university even more. I plan to represent my peers in the best way possible and to bring up issues that my particular class faces."
What I Plan for My First Year
"I'm looking forward to all the new experiences that college has to offer and to being able to enjoy the 'Miami Experience.'"