College of Arts & Science

at Miami University

Ryan Kincaid
(Dean's Student Advisory Council)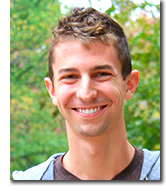 senior diplomacy and global politics major, with minors in German, European area studies

from Westerville, OH
intern with the United States Department of State, Embassy of Ljubljana, Virtual Student Foreign Service

(VSFS)

Miami University Dolibois European Center, semester abroad in Luxembourg
[More from other DSAC students.]
Update: October 2012
"This summer, I had the opportunity to take Suzanne Philion's Senior Advisor for Innovation class on 21st Century Statecraft at Georgetown University. Each week, I had the opportunity to hear from a number of "bad diplomat" who are shaking things up at the United States Department of State. It was fascinating to hear how the Department of State is working to engage in diplomatic efforts throughout the world using new technologies and a focus on public diplomacy.

"While taking classes, I completed an internship at Share Our Strength, a national nonprofit leading the effort to end childhood hunger in the United States. It was an incredible opportunity to live and work in the nation's capital. I was in front of the steps of the Supreme Court while the decision on the Affordable Care Act was handed down, participated in press conferences at the Capitol on issues including cuts to SNAP (formerly Food Stamps), and listened to Secretary of State Hillary Clinton's keynote speech on ending genocide at the United States Holocaust Museum. The experience connected me to important names and events in the most politically powerful city in the world.

"Following my summer in Washington, D.C., I returned to Miami University eager to stay engaged with the United States Department of State. I am currently doing an internship through the Virtual Student Foreign Service program, which has been invaluable in connecting me to the operations of the Department of State abroad. It has been enriching to pair my work through the Virtual Student Foreign Service to my studies in the political science and European area studies while I am here at Miami University. I am in the process of applying to graduate programs in both the United States and Europe and will be pursuing a master's degree in Foreign Service or German and European Studies."
Update: October 2011
"Last semester, I had the opportunity to study abroad at the Miami University Dolibois European Center (MUDEC) in Luxembourg. Right in the heart of Europe, I was able to learn from high-profile European professors and take weekend trips to 12 different countries.

"As a Diplomacy and Global Politics major, I especially valued the opportunity to visit European Union institutions in Luxembourg and practice speaking German with my host family. From Portugal to Poland, I was able to take what I learned in the classroom and apply it to real-life experiences while living the life of a European."
Update: November 2010
"I was an undecided major during my first-year at Miami. Before I even started thinking about a major, I knew I wanted to integrate study abroad into my college experience.

"This spring [2011], I will study at Miami University's John E. Dolibois European Center [MUDEC] in Luxembourg. The long-standing tradition of the MUDEC program was one of the most important factors that led me to study at Miami. I am looking forward to interacting with the people of Luxembourg and learning more about the lives and cultures of the European people. I hope that the political science and German courses I'll be taking abroad will enrich my studies and possibly prepare me for a career abroad."

In the fall of 2009, Ryan answered questions about his time at Miami University.
Impact I Hope to Make on Miami
"I hope that through my leadership and character I will make a positive and lasting difference in the Miami community. I am just starting my Miami experience, but hopefully I will have the chance to make some kind of difference every day. I do not know exactly how I will go about making an impact on the university, but I know there will be many challenges and opportunities to do so."
Thoughts on Representing My Peers
"It is a great honor and responsibility to be able to speak on behalf of my class on the Dean's Student Advisory Council. I think it is very important to provide the administration with a student perspective on problems facing the university. I am excited to work with the Dean's Office and other student members to discuss and debate these issues."
What I'm Looking Forward to This Year
"I am looking forward to meeting new people and taking classes that I never would have taken in high school. Next semester, I might even take Beginner's Ice Skating. I am also looking forward to cheering on the hockey team! I went to my first game over Homecoming Weekend and it was a blast. Go 'Hawks!"

CAS: What have you learned about yourself during these first few months at Miami?
RK: I have learned how to adjust to the demands and pressures of college life very well. In addition to balancing my time between academic and social responsibilities, I have learned how to become a conversational learner. Education at Miami requires more than reading and reiterating material out of a textbook. As a result, my classes and other educational experiences have taught me how to better express and defend my positions on a variety of social issues.
CAS: Have classes met your expectations?
RK: I had always expected that university classes would be packed into big lecture halls with little or no interaction with professors. I never could have anticipated how personal and interactive all of my classes have been. I started taking German this semester, and in a class of only nine students, there are many opportunities for all of us to work together.
CAS: What helped you choose Miami?
RK: My parents were Miami Mergers, so there was definitely some pressure there! They were always proud to tell me about Miami's beautiful campus and fantastic academic reputation. I traveled around the country looking at schools, but I am from just outside of Columbus, and Miami is the perfect distance away from home.
CAS: How would you evaluate your education at Miami? Can you say anything about the kinds of opportunities available?
RK: The educational opportunities available at Miami extend far outside of the classroom. In many ways, Miami encourages us to shape our own education, but there is also an extensive web of resources available to help us along the way. Professors, advisors, mentors, and classmates are always willing to talk with us and help us create successful opportunities.
CAS: Miami emphasizes the importance of being an "engaged learner." Do you see that in your interaction with professors and classmates?
RK: Absolutely! The structure of the University Honors Program is particularly focused on this idea. Engaged learning encourages students to take the initiative to be responsible for our own learning experiences. Lectures and other in-class experiences are the foundations on which we build our own opportunities to discover something new about the things we are studying.
CAS: Have you had research/special opportunities made available to you through Miami, and if so, what was that experience like?
RK: I have not yet had the opportunity to do independent research, but there are always occasions to take part in some educational experience on campus. The University Lecture Series is an especially engaging program that brings nationally renowned speakers to Miami's Hall Auditorium. I was honored to be in the audience for Robert F. Kennedy Jr.'s lecture, "Our Environmental Destiny." I was very involved with my high school's Environmental Club, so it was such an experience to hear Mr. Kennedy talk about the future of energy in our country.
CAS: What Miami Plan courses or college requirements have been particularly valuable to you?
RK: I am in the University Honors Program, so I do not have to fulfill the Miami Plan requirements. However, many of the College of Arts and Science requirements overlap with the classes required by the Miami Plan. As an undeclared student, the CAS requirements are helping me to narrow my focus toward a major.
CAS: What kind of extracurricular activities have you participated in? Have you had any leadership roles in those?
RK: I am a representative on Emerson Hall's Community Council. I work with other people living in my hall to provide social and educational programming for the Emerson community. I also make sure to attend and support a number of programs sponsored by other groups on campus. There are definitely opportunities for everyone to get involved.