College of Arts & Science

at Miami University

Angel Evans
(Dean's Student Advisory Council)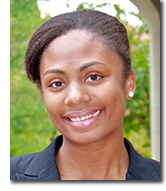 junior international studies major, with minors in social justics and Spanish
from Canton, OH
enjoys traveling
[More from other DSAC students.]

In fall 2010, Angel talked about her time at Miami University. She updated these comments in October 2011 and again in October 2012.
Academic & Co-curricular Experiences
"Hola! My name is Angel Evans, and I am currently a junior at Miami. Since arriving on campus as an overwhelmed freshman, I have gained growth and experiences I never imagined. From studying abroad in Chile to simply learning how to manage my time, Miami has taught me the important value of engaging oneself to the fullest.

"Shopping, eating, traveling, working out, these are the joys of my life. Along with Jesus Christ and my friends, my family is very dear to my heart and I love spending time with them.

"The best ways for me to relax are traveling and working out. My must-see list includes Tokyo, the Mediterranean, Brazil, and Capetown. After all, I am an International Studies major!"
Thoughts on Representing My Peers
"Because the College of Arts and Science spans a variety of interests and ideas, it has to include a diverse set of people, right? That said, I represent the College of Arts and Science because I fit the type of student it seeks — a well-rounded individual who can easily steer in all venues of thinking, whether it is communication, philosophy, language, science — you name it."
What I'm Planning for the Future
"After graduation, I see myself moving to D.C., New York, or abroad where I can use my degree in public service, international development, or law school. Wherever I go, my mission is to help people of all nations, races, and backgrounds have an equal chance at success."